Snow White Saturday December 2 2023 at 1:00 PM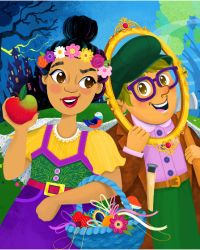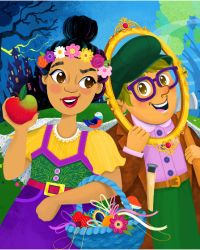 You've selected
Saturday December 2 2023 at 1:00 PM
×
Snow WhiteNovember 29 to December 31, 2023Waterfront Theatre
A Carousel Theatre for Young People Production "Thoughtful, charming, and highly entertaining for audiences of all ages" -Toronto Star "Full of theatrical virtuosity… A rollicking funny treat." - Minneapolis Star Tribune "A fun, insightful, enchanting take on a classic. Perfect holiday fare" - NOW Toronto "Snow White, by Greg Banks, turns this old fairy tale completely on its head…Why take the kids to see the show? First off, it's funny. Like, really funny. I took my three kids, ages 12, 8 and 7, and they were busting up throughout the entire play." - Parent Map, Seattle
A "Once Upon a Time" tale re-imagined for twice as much fun! Not your traditional Snow White, this clever twist on the beloved fairy tale is a two-actor take that's irresistibly playful and oh-so smart. With lightning quick switches, the duet morphs into 14 characters, retelling (along with a song or three!) the story of Snow White, all seven dwarfs, the prince, queen and her madcap crew. Hilarious and charming, this ingenious Snow White nudges the classic toward a more timely interpretation.
Recommended for Grades 1-6
Venue
The Waterfront Theatre
1412 Cartwright Street
Vancouver BC V6H 3R7
Performance Notes
Mask Mandatory Accessible Performance Masks available at the door.