Snow White Saturday December 16 2023 at 4:00 PM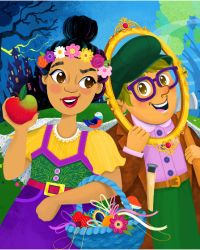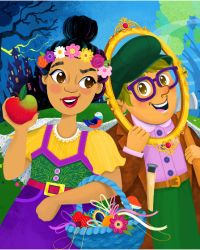 You've selected
Saturday December 16 2023 at 4:00 PM
×
Snow WhiteNovember 29 to December 31, 2023Waterfront Theatre
A Carousel Theatre for Young People Production "Thoughtful, charming, and highly entertaining for audiences of all ages" -Toronto Star "Full of theatrical virtuosity… A rollicking funny treat." - Minneapolis Star Tribune "A fun, insightful, enchanting take on a classic. Perfect holiday fare" - NOW Toronto "Snow White, by Greg Banks, turns this old fairy tale completely on its head…Why take the kids to see the show? First off, it's funny. Like, really funny. I took my three kids, ages 12, 8 and 7, and they were busting up throughout the entire play." - Parent Map, Seattle
A "Once Upon a Time" tale re-imagined for twice as much fun! Not your traditional Snow White, this clever twist on the beloved fairy tale is a two-actor take that's irresistibly playful and oh-so smart. With lightning quick switches, the duet morphs into 14 characters, retelling (along with a song or three!) the story of Snow White, all seven dwarfs, the prince, queen and her madcap crew. Hilarious and charming, this ingenious Snow White nudges the classic toward a more timely interpretation.
Recommended for Grades 1-6
Venue
The Waterfront Theatre
1412 Cartwright Street
Vancouver BC V6H 3R7
Performance Notes
Live Description Performance by Vocal Eye
VocalEye's described performances for listeners with vision loss begin ten minutes before the show, with a brief introduction to the characters, costumes and locations. Once the show begins, important visual details and physical actions are described between the lines of dialogue. All descriptions are voiced live and in real-time by a trained Describer.
Only VocalEye users can hear the description through a small handheld receiver and single earpiece that can be worn on either ear. Equipment can be picked up from the VocalEye table in the lobby up to one hour before the show starts. Users are welcome to bring their own earbuds or portable headphones.