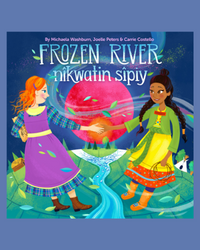 Teacher Talk - Frozen River | nîkwatin sîpiy
When
Occurs on Friday September 30 2022
Approximate running time: 1 hour
Venue
Event Notes
×
Teacher Talk - FROZEN RIVER nîkwatin sîpiySeptember 30th at 4pm at Carousel Theatre Studio A
Childcare provided on site.
Join Dallas Yellowfly and Alysha Collie of 3 Crows Productions and other community members in a talk about conversations around Indigenous Support in the classroom.
In nîkwatin sîpiy, Grandmother Moon tells the story of two eleven-year-olds, born under the same blood moon, but in different parts of the world. This new play follows their stories as they meet in a forest, and that of their descendants who meet in the present day in what is known as Manitoba. A broken promise from the past can be righted when there is finally an openness to learn from those who have protected and honoured the waterways for centuries.